Audience management can be related to how marketing agencies traffic, target, deliver and report on interactive advertising campaigns or may refer to how a live audience in managed during an event. Regardless of how you view your audience and the methods by which you hope to manage it, there are a few additional tools, software and a way to tickle your audience to make them feel delighted. (or express their unhappiness)
Data Management Platforms
Directly related to audience management is the data management platform (DMP). DMP is a holistic solution that provides universal connectivity across all data relevant to digital marketers. DMP provides audience data that enables more precise targeting and enables new types of analytics such as attribution that power smarter optimization decisions.
Expectation for DMPs include:
Centralize all audience data.
Deploy target audience profiles across all inventory outlets.
Enable tracking, analytics, and optimization across the entire media mix.
Forrester Research released an independent report on Data Management Platforms in 2011 which says: "The DMP Is The Audience Intelligence Engine For Interactive Marketers." In the report, Forrester defines a DMP as:
"… a unified technology platform that intakes disparate first-, second-, and third-party data sets, provides normalization and segmentation on that data, and allows a user to push the resulting segmentation into live interactive channel environments."
What you may not know is that in March 2008, Google acquired DoubleClick for US$3.1 billion.
DoubleClick offers technology products and services that are sold primarily to advertising agencies and media companies to allow clients to traffic, target, deliver, and report on their interactive advertising campaigns. The company's main product line is formally known as DART, which is designed for advertisers and publishers.
DoubleClick creates web ads commonly seen on websites. When a user visits a website that has a DoubleClick ad on it, a special file is installed on their computer. This file is called a "tracking cookie" and sends information to DoubleClick whenever the user clicks on one of the ads or goes to another site that has DoubleClick ads on it.
If yours is an advertising agency or media company, DoubleClick for Publishers (DFP) Audience allows you to better meet this challenge by extending your most valuable audiences across your website or network. By using DFP Audience, you can identify site visitors who have previously expressed interest in specific content areas and reach them elsewhere on your site.
Double-Click is a software tool online you can read more about here.

An example of a data management platform in the marketplace:
Lotame brings publishers to the forefront of audience data intelligence. Crowd Control is the audience data management platform engineered by Lotame.
Crowd Control collects audience data based on specific behaviors (such as click, download, upload video, video completion), interests (examples include sports, football, parenting, museums, travel), or demographic information.
These data points can be used to better understand your audience, create effective RFP responses, enrich your audience using third-party data and extend your audience reach to address campaign commitments.
Tickling the Audience
Making an impression via video is now the cutting edge trend. The Super Bowl ads are no longer a big surprise on game day as they are released early on the Internet and Youtube. To keep the viewers attention, video is now a way for your company to tickle the audience funny bone (or tug at their heart).
Here is Google Chrome racing against a potato, sound and lightning. Get your stop watch:
Live Audience Management.
Moving into the room of a live audience SlideKlowd is in the process of connecting the room with the presenter via mobile and the cloud. Klowd.com develops audience engagement web platforms and applications that blend mobile technology, The Cloud and crowds.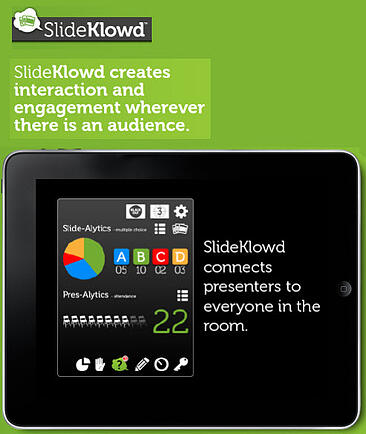 When the audience enters an event key, it creates a connection between the presenter and the devices used by the audience. SlideKlowd offers apps for iOS and Android devices.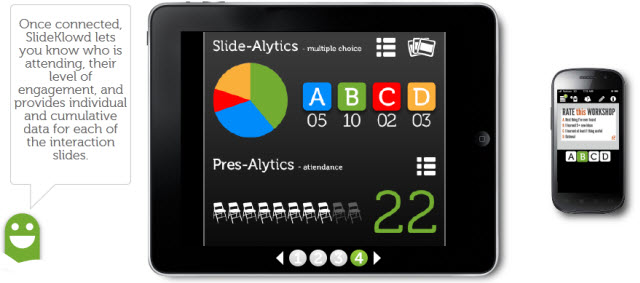 Once connected, the presenter knows who is attending. Through the connection they can tell the level of engagement and if they are doing other things. The service collects individual and overall information about each of the interaction slides.
The presenter can get thumbs up or down from the audience. The company is integrating the Twitter API to offer a new way to share a presentation.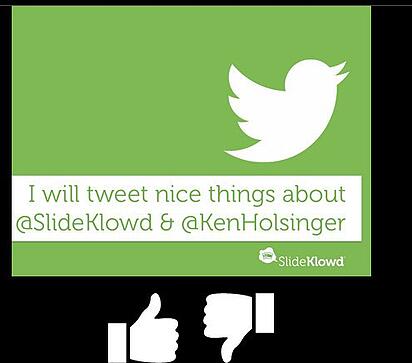 The data is captured and presented later in an analytics report.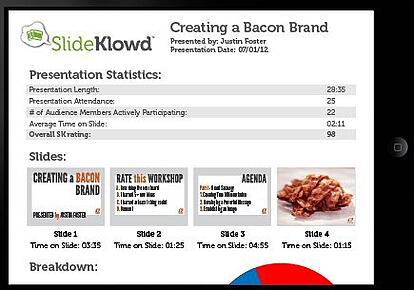 SlideKlowd is combining the power of a PowerPoint presentation, the cloud, mobile devices and data management. While body language is said to the most powerful way to communicate, SlideKlowd may become #1 during a presentation.
Transitioning from old school into the world of data will improve the effectiveness as your business better understands the reality of who and where the buyers are and what they are interested in.
If you are interested in developing an audience management strategy and plan and evolving into the new world of media, please contact us.