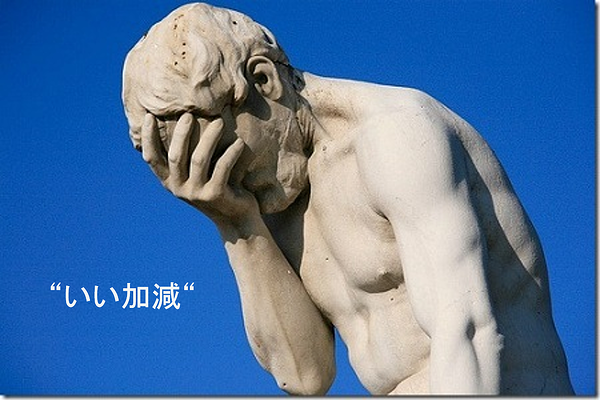 Negligence In Any Culture
One of my favorite moments of learning Japanese was years ago when I was visiting my company's rural warehouse and meeting with our team there. In Japanese, there is a term "Kanpeki-shugi" or "Perfectionism" ( 完璧主義) often used to describe someone who goes above and beyond ALL the time to ensure everything is done JUST right (and there are a LOT of folks like this in Japan, thankfully!). When I asked the staff there that day what is the opposite of "Kanpeki-shugi" they immediately responded: "ii-kagen" which can be "Irresponsible", "Sloppy", "Lax", "Lazy", or "Negligent" (いい加減).
Today, let's talk about "Negligent" (いい加減).
Running With The Herd Under A Wall St. Whip
Twitter and the rest of the social buzz world was busy yesterday with the news that JetBlue was going to eliminate their "First Bag Free" policy (for a new fare class being created, no one bothered to mention) and squeeze an inch of legroom out every coach seat to accommodate 15 more seats in their A320s (which would still leave them as the roomiest domestic US carrier).
Wall St. types, even those as affable and customer-focused as Motley Fool, have written off the backlash with "fliers' outrage is overblown", noting that "less than half of them check bags anyway", and for the rest, "they can avoid the fee by packing more carefully into a carry-on bag." Indeed.
Forgetting That Customers Own Your Brand
The complaints were predictable to a certain extent...but the tone of them is what is really indicative of the impact. Unlike the vitriol some airlines get for doing things like breaking guitars and losing pets where their customers are always braced for the worst of it, the Jet Blue reaction came from true fans, and the tweets and Facebook comments are peppered with words like "Disappointed", "Sad", and "Break our hearts".
"Negligent"(いい加減).
This is hitting hard with loyal customers who love their Brand. The reaction is less about the specifics than it was about JetBlue declaring "We are not so different."
By saying "We are not so different", JetBlue is essentially "De-Branding" itself. Is that what a long-term shareholder wants to see?
Customers love the Brands that do something to be different. But everything about this announcement, from the timing (a day after industry profits were announced), the wording, the reasoning, etc. was designed to speak to Wall St.
By Definition, "Shareholder Value" Devalues Your Brand
JetBlue's CEO, Dave Barger, is not one who has been known to kowtow to Wall St. analysts. But with his departure already announced for this coming February, these changes appear to be more about Wall St. getting its way with his successors. But as a customer, the thought will remain:
"Negligent"(いい加減).
If your focus as a CEO is going to be relying on a "Shareholder Value" approach to pleasing Wall St., the pleasure will be short-term. Decisions, policies and investments that don't correlate to positive impacts to your customers and your Brand won't sustain "Shareholder Value" in the long-term either. While JetBlue will likely see less of an immediate impact from this week's changes, it remains to be seen of the new management is using this as a launching point for an expensive "De-Branding" exercise or a one-time resetting of expectations.
---
Are you building a future empire of loyal customers and a world-beating Brand? See how the best "Customer-First" companies do it through their organizational structure and culture, and the most appropriate way to prioritize shareholder interests with your copy of "The Customer-First Business Model".
David L. Dallaire, Fennec Marketing Group