Twitter As A Peek Into Group Conciousness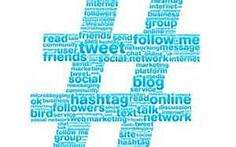 Large media events, natural disasters, sports championships and celebrity/politico faux pas' are all natural drivers of large volumes of Twitter traffic. With every explosion of tweets driven by one of these events, we all learn a little something we didn't know about our subject before (and admittedly sometimes wish we didn't know).
The tool that perhaps makes Twitter so fascinating either as a participant or an observer is the not-so-innocent little "hashtag" which is the word, phrase or nonsensical jumble of letters preceded by the "#" symbol (known to many as the "pound" or "number" sign).
A hashtag is technically a technique to allow users to see a string of Tweets that are related to the same topic. But in reality, they are so much more. As each one can be an editorial comment unto its own, a sly twist of humor, or an incisive insult that might not be as prudent to tweet directly. Topics trending at the time of this writing span from political/media (#CreationDebate or #NyevSham), corporate-driven charitable giving for cancer (#PurpleYourProfile), innocuous music commentary (#WorstRapLyrics) and the biting, tongue-in-cheek and slightly vengeful (#ExesBeLike).
Post-SuperBowl Trending Hashtag as Branding Boost or Bomb?
Can Twitter shape a Brand? Without going into a lengthy research paper to document my inclination to say "yes", let's look at one fun example coming out of the Super Bowl - the post-game celebrations of the Seattle Seahawk fans back in their (and my adopted) hometown:
Well, refusing to jaywalk despite your championship glow may be a symptom of a City without a major sports championship for 34 years, but might it also just be part of Seattle's own "Brand"?
Poke Fun At Yourself, Enhance Your Brand...
Well, since the reluctant jaywalkers of Ballard made national news feeds on Monday, Twitter lit up with the perfect hashtag "#HowSeattleRiots", and the humor, snark and sarcasm were contagious. Here is a smattering of some from the day after the Super Bowl (credit: Seattle Times):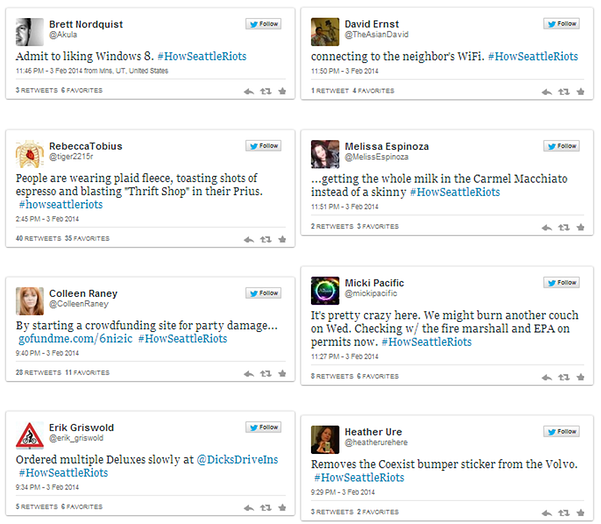 So while there is some evidence that Seattle already thought of themselves as a bit overly polite, the magical quality that Twitter has to allow for a characterization (or mis-characterization) to travel globally in seconds has now made this aspect of the Seattle "Brand" known around the world.
And even better? They turned words into action by leveraging the buzz on Twitter to crowdfund the repairs to damages from the celebrations...What a Brand, What a City!
Enjoy the full brunt of the humor via the direct Twitter feed for #HowSeattleRiots.
Have you experienced any recent boosts or meltdown to your own Brand or another favorite on Twitter? Share them below....