What You Need to Know About Branding
Branding is hard - for any business - in part because it is not as well understood as many businesses think. But for smaller businesses, it is even harder because it requires resources and skills you don't normally need to keep in-house.
Today we are starting a series on "Branding" for the Small and Medium business owner that will help clarify some of the confusion AND provide some direction on how to make your own business stronger inside and out with some specific steps on developing (or re-developing) your own approach to Branding.
Understanding the Difference Between "Brand" and "Visual Identity"
Regardless of the type of career you are in, you probably hear something almost every day about "Brands" - as an employee of one, as a consumer, as an innocent bystander being bombarded with commercials when your DVR is down or as a person networking among clients or vendors or your business community.
"I really like your Brand"
"We're quite happy with our Brand"
"We need a new Brand"
"Know any designers? We need help with our Brand"
However, one thing I have observed in the marketplace over the years is that the definition of "Brand", "Branding", "Brand Development" is widely misunderstood...even by many who make their careers in Marketing.
Take a look at the two logos of National Brands below. One of them is an iconic logo known to many in the US who might not even be a customer, and the other is a great Brand that gets a lot of love from its customers. Do you see the difference?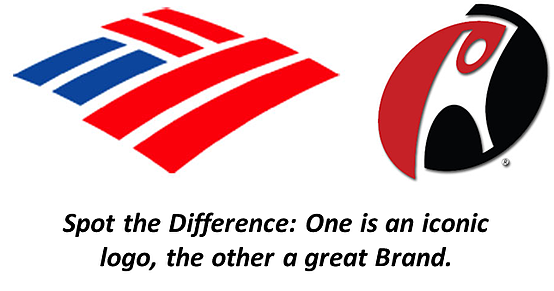 Given the kind of turmoil, lawsuits, customer churn, government fines, etc. that has gone on around the Bank of America Brand since the recession, it would be hard for anyone to argue that it is currently a "great Brand". But it's pretty certain you knew their logo...and likely had a less-than-positive reaction to seeing it.
What about the other logo? That one belongs to a company called Rackspace. Rackspace may not be a household name, but to their customers, they are an AMAZING Brand...You can see why by looking at their description of their customer support services, nicknamed "Fanatical Support". They have bucked traditional business logic in the past by eliminating the dreaded computer voice-controlled phone service and putting real humans back on the phones...and are also a pioneer in making cloud computing services profitable because they understood the changes in the business model better than their slower competitors.
See the difference? Here is a short list of things that DON'T define, or may not even represent your Brand:
A Logo
A Tagline
A Beautiful Website
A Clever Ad or Commercial
A Product Campaign
Or any other design element. All of these things that require design work are part of a "Visual Identity" or "Brand Identity". Bank of America's visual identity is very strong, and very well-known. But that does not make it a good "Brand" nor mean that there is a valid and well thought out Brand Strategy.
Don't take this to mean that you don't need a good visual identity - we certainly do now more than ever. But make sure it actually stands for something. Not many sales are made by well-designed logos - but most are made by trusted Brands.
Having a "Brand" Means You Stand for Something
"Why?"
As in "Why would a consumer work with your company? Use your product? Simon Sinek's "Start With Why?" is a must read for any small business owner. If you really want to stand out from your competition, you need to have a CLEARLY defined "Why?" to your business...not something you make up as part of your advertising, but as something that is core to your culture. It should be something that both employees and customers can sincerely believe about what you do. Let's go back to Rackspace for a moment and take a peek at their "Core Values", which strongly suggest their commitment to their customers and being a "Customer-First" business: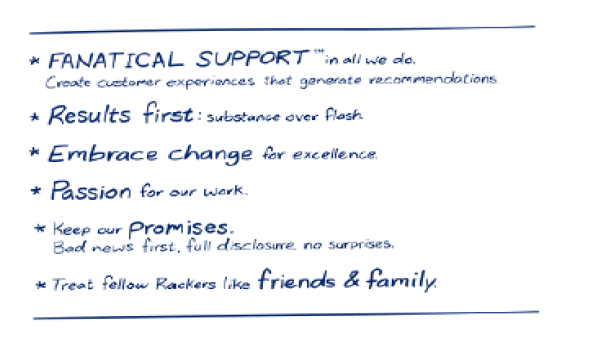 First of all, let's be honest about this list. When reading it is easy to think that 1) you could definitely be a customer of this company and 2) you probably wouldn't mind working there too!
AND THAT"S EXACTLY THE POINT....
Rackspace talks about their "Fanatical Support" as what it is they stand for, but more importantly, they back it up with a set of core values that make it easy for them to fulfill that promise of "Fanatical Support". And that kind of "Why?" generates a culture for both employees AND customers that is hard to compete with. In the words of their CEO, Lanham Napier:
"Our culture and the awesome people we have are the things I am most proud of…I would say it's impossible for our competitors to copy. They'd have to start over and build it from scratch."
This is the Rackspace "Brand", and it's "Why?" - a commitment to outperform the industry in regards to serving their customers, backed up by values and policies that make it easy for ever employee to do whatever it takes to take care of their customers the right way.
You can put any logo on that promise and it won't change their customer satisfaction or their results a bit.
For Next Week
After reading Part I today, think about the following questions for our next visit:
1. Do both I and my employees know the "Why?" of our business?
2. If asked, would they all share the same or similar description of what we do?
3. Do my customers see the same values from our products/services as they hear from us talking about it?
How you answer these questions will matter quite a bit when we next talk about how you can implement the Branding strategy that matters to your business.
And if you don't believe me, sit back and enjoy this related piece from the "Marketing Experiments" people:
For Part II, including a set of basic steps to get you started, click here.