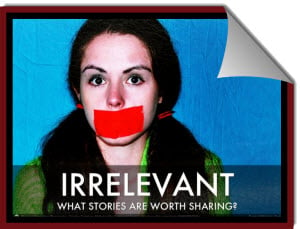 Delivering an effective marketing message is more difficult than ever. Anyone with a mobile device has become a social marketer, filling the environment with noise. When communication breaks down, time is wasted, misunderstandings mount and business-building opportunities are lost.
Our team messaging expert Therese Beale of Beale Communication Planning offers Three Clues Your Marketing Messaging is Broken. She suggests three reasons your messages may be falling through the cracks (and the secret sauce to help get you back on track).
WARNING SIGNS:
Too many messages
It's all about us, not about you
Random rambling storytelling
THE QUANDARY:
Disconnected - Unable to answer the questions about who matters most.
Undifferentiated - Not standing out.
Irrelevant - The stories are not worth sharing.
THE FIX:
Audience Focus - Get clear on what they think, feel and know.
Brand Alignment - Leverage your strengths consistently.
Show Evidence - Tell credible stories that resonate (forget the rest).
Fennec Marketing Group helps you re-evaluate where you stand in the market and define the space where you can stand alone and reap the benefit of being "the simple choice." Our BrandSpark™ process builds a Brand that delivers benefits to every part of your business:
Contact us about the BrandSpark™ process here.

About the Author:
Creative Direction, Messaging, PR
Therese Beale helps organizations tell stories that inspire steadfast relationships and compelling results in their marketing, sales and product development programs. A former journalist and public relations agency executive, Therese developed The Lucid Method TM, a messaging model that emphasizes audience analysis, cultural alignment and evidence development to ensure communication is clear, consistent and credible. She offers strategic message management, development and training for leading consumer & retail brands, professional service firms and nonprofits in the U.S. and internationally.