Re-defining "Business Launch"
A client based in Asia recently began exploring a plan to launch their business internationally and invest in a subsidiary office here in the US. While discussing their plans for incorporating, hiring staff, etc. later in the year, they revealed they would also be in the US this month to exhibit at a major industry Trade Show to kick off their efforts to enter the US market.
"You know that means you are launching your U.S. business on that day, correct?"
The statement provided for some thoughtful silence, and then a realization that considering this was the biggest event of the year in their core target industry, it would not do the new business any favors to show up with some poorly translated pamphlets to hand out from a barren table in a big exhibit hall in Las Vegas. An international business launch in the U.S. needed a more serious approach.
Essentially, the Trade Show WAS the launch of their US business.
Once the dust settled on the conversation about what was needed to make a memorable, professional-looking appearance at the show, the "ideal" schedule indicated we had NINE DAYS to launch their US business!
Shortcuts to Going International In the Digital Age
We came up with a shortlist of things required to ensure the client could make the right impression for the partners and visitors they would meet at the show:
A US-targeted website that indicated more maturity than a business usually can on Day One.
Offers for potential customers to engage and interact with the Brand online (i.e. a free trial, a white paper, an appointment, etc.)
A package of materials to dress up their table at the Trade Show and look ready for business.
Something to put them in the news that would give their online presence more credibility before and after the show.
How hard is this to do? Not as hard as it used to be -here's how we did it:
1. The Website - We wanted something that would allow us to be quick and flexible, collect customer data from downloads and provide for some basic workflow options.
a. We set them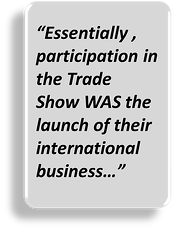 up on HubSpot, an online software package that is designed around Inbound Marketing principles and includes both a Content Management System and some basic marketing automation - including a way to collect and manage new contacts and leads.
b. Added a tool called "TimeTrade" which allows us to set up a page for people at the Trade Show to make personal appointments for demos at the booth.
c. Added a private page for the client to log leads directly from the business cards they would collect at the trade show and automatically generate a "Thank You" note to the visitor.
d. And since the private page was internal, we added field descriptions in the client's local language to reduce the chance of data entry errors.
2. Content Creation - Everything online revolves around content these days, and every company has more content ready-to-go than they realize. We set up a DropBox folder to share with the client and told them to dump "anything and everything" they had. We filtered through for images, presentations, web-parts, etc. and pulled together a shortlist of things that could be converted quickly into useful information for their leads and customers.
3. PR - In case you haven't noticed, PR has evolved to become an easy driver of traffic, backlinks and content-sharing online. One Press Release two weeks before the start of the show to announce their "US Debut" at the show and another on the first day formatted as an "interview" with their executives generated thousands of views, hundreds of user actions (forwarding, downloading, etc.) and backlinks and put the client on Page 1 of both Google and Bing for their core keywords within days of launching.
4.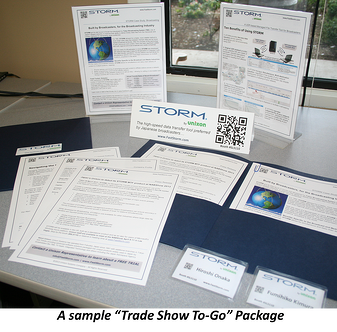 "Trade Show To-Go Box" - finally, to get them spiffed up for their US "debut", we made sure their small table at the show would not look like they just got off the plane (even if they just did!). A package Fedexed with days to spare before the show contained:
a. Table Tents with QR code to the website to allow a peek for those not intending to stop at the table.
b. Pre-printed Logo Name Badges (2 for each person)
c. 40 folders, 40 copies of a set of five inserts, 40 logo labels to assemble their own "Press Kits" with business card included.
d. Clear plastic stand displays to allow for display of a choice of inserts
e. A brochure to use as a "Handout"
f. Guidance on creating more content at the Show (taking photos, recording demos, etc.)
The Reality of Making it Work
Is it really possible, or even recommended, to launch an international business in just nine days?
In reality, this example only worked because the client has already been planning to enter a new market. It worked because we had worked with them earlier on a marketing strategy and they had already selected a local resource to lead their local management once they incorporated.
Research had been done. Partners had been approached. There was already a plan to launch in the US. Just not this soon! Essentially, enough homework was done ahead of time to make this possible.
So yes, you too can look around the globe and see the possibilities of an international product launch for your own business...but it pays to get help - so when you find it is time to hit the "on" switch, you will land in your new market intelligently and look ready for a long-term commitment.
Are you thinking about launching internationally? If so, here is a basic checklist for your team to prepare to launch:
7 Point Checklist for Planning Your International Expansion