This week we are posting from a guest - our own Jennifer O'Brien of Pyramide Productions shares some perspective on the role of video content:
The Missing Piece in Your Content Portfolio?

Through our websites, the digital age now let's our prospects and customers engage with us 24 hours a day. We can provide all kinds of resources like white papers, manuals, directions, product catalogs, and almost any other type of content – but how do y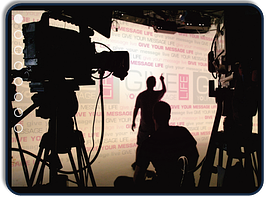 ou help your prospects and clients get the full experience of your Brand culture without a personal meeting or phone call? Different people respond differently to the same channels, and the written version of your Brand online doesn't always convey the right message or deliver it in a way that is clear to everyone.
Video is the marketing tool that lets you talk in your sleep to your prospects. In addition to the research that shows higher engagement and recall rates for Brands using online video, the format allows you to convey your Brand values and culture in exactly the words you want, and at the time and location that is most convenient for your Prospect.
Taking phone calls, setting up meetings, composing emails all require you to be awake, while video allows your potential customer to meet you and hear what you have to say anytime, anywhere and from any device. It's a great way to turn leads into qualified leads. It can save you time, money and help you win business.
But I'm not an Actor?
As you've discovered over the years through all the fits and starts and growth of your business, no one is more passionate about your business then you. That passion and commitment will come through the screen just as is does in a face to face meeting. You, as the representative of your Brand's culture, are the best person to represent it. Sure, you can hire an actor to convey your message, but it will never resonate as genuine like it does with you and your own employees and might even work against you. A professional video production company can make you look just as good, or even better, because they can help you look like you are being yourself. Particularly for small businesses, this tends to work better when you are part of your small business branding strategy.
What do I need to know?
Introduction videos should be no more than 1.5 minutes
They should be carefully planned out and professionally made
They should move quickly and have a lot of visual appeal to keep the viewer engaged
They don't need to tell the whole story, but enough for the customer to decide if they need more information.
Avoid dating your video when possible to preserve its shelf life
It needs to be posted where people can watch it while you are sleeping!
Letting the video do the work, even while you sleep, is a great investment in your online content offering.
Download our free guide to "Top 5 Styles for Business Videos" with multiple samples and we'll show you what you need to get started today.
Fennec Marketing Group is a collective of Marketing Experts that provide consulting and execution services for a broad range of needs in Branding, Marketing Strategy, Messaging, PR, Integrated Marketing and Social & Digital Media among others. We help ensure that effective Marketing is a core part of your business while making it simpler to manage.